Avatar and Top Gun sequels may have ruled 2022 global box office but the top hits for the Generation Z and over-55 crowds were After Ever Happy and Mrs. Harris Goes To Paris.
New viewership research by data analytics and campaign management company Movio collated from more than 50 countries and unveiled at CinemaCon on Monday presented a different perspective on the most popular theatrical releases of last year – and a timely one given that Hollywood is chasing younger and older crowds.
Gen Z audience gravitates towards horror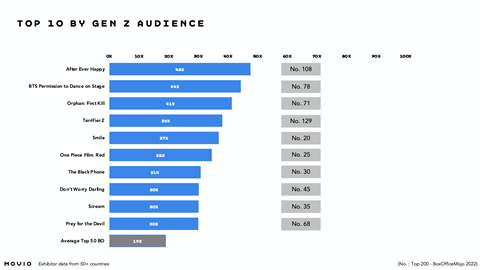 Click top left to view full size
While YA adaptation After Ever Happy sold worldwide by Voltage Pictures ranks at number 108 in the pantheon of 2022 hits, it was top of the charts with the Gen Z crowd – broadly defined as people born between the mid-1990s and early 2010s. The youngsters accounted for 48% of the film's entire worldwide box office according to Movio Cinema software.
Overall the top 10 titles favoured by Gen Z comprised six horror titles, one anime, one event release, and two others. The demographic accounted for 19% of box office across the top 50 global releases of 2022.
Behind After Ever Happy in second place was the global event release of BTS Permission To Dance On Stage, the South Korea pop star event that ranked 78th in the conventional box office charts and drew 44% of its entire theatrical audience from the Gen Z demographic.
EOne/Dark Castle's Orphan: First Kill sold by Sierra/Affinity was third (No. Gen Z accounted for 41% of the audience in the conventional chart. 129, 38%); and Paramount horror Smile (No. 20, 37%).Next were Toei Animation's Japanese anime hit One Piece Film: Red
(No.25, 35%); Universal/Blumhouse's The Black Phone (No.30, 31%); New Line's Don't Worry Darling (No.45, 30%); Paramount/Spyglass's Scream (No.35, 30%); and Lionsgate/Gold Circle's Prey For The Devil (No.68, 30%).Over-55 crowd flocks to comedy dramas, war films, dramasShow Fullscreen
Source: Movio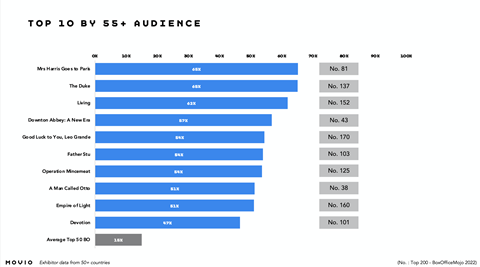 EOne's drama
Mrs. Harris Goes To Paris
was the winner, despite being ranked 81st on the conventional box office chart in 2022. The age demographic accounted for a 65% share of the film's entire global box office.In second place was Pathe's The Duke
(No.137, 65%) followed by Film4's Living (No. 152, 62%), Universal's Downton Abbey: A New Era (No.43, 57%), and Good Luck To You, Leo Grande (No.170, 54%) licensed globally by Cornerstone Films.Ranking six through 10 were: CJ ENM Studios' Father Stu
(No.103, 54%); See-Saw Films' Operation Mincemeat (No.125, 54%); Sony's A Man Called Otto (No.38, 51%), Searchlight Pictures' Empire Of Light (No.160, 51%); and Black Label/STX's Devotion (No.101, 47%).Infrequent film-goers favour BTS Permission To Dance On Stage
, Avatar: The Way Of WaterShow FullscreenSource: Movio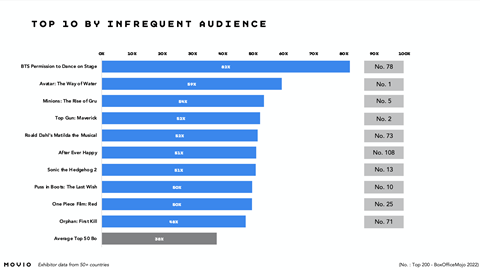 BTS Permission To Dance On Stage
(No.78, 82%) showing the power of theatrical event releases; Disney/Lucasfilm's Avatar: The Way Of Water (No.1, 59%), Universal/Illumination's Minions: The Rise Of Gru (No.5, 54%), Paramount/Skydance's Top Gun: Maverick (No.2, 52%), and Working Title/Netflix's Roald Dahl's Matilda The Musical (No. 73, 52%).Rounding out the top 10 were After Ever Happy
(No.108, 51%), Paramount's Sonic The Hedgehog 2 (No.13, 51%), DreamWorks Animation's Puss In Boots: The Last Wish (No. 10, 50%) One Piece Film: Red (No.25, 50%) and Orphan: First Kill (No.71, 48%).The infrequent film-goers demographic accounted for 38% of the entire audience across the top 50 films in the conventional charts.Movio conducted its research using quantitative data received directly from exhibitor clients in more than 50 countries who use the Movio Cinema data analytics and CRM solution to manage their customer databases and communications.
Cannes adds 14 new titles to 2023 Official Selection