One of Germany's leading production and distribution companies, Constantin Film is delivering one of its "most ambitious" slates of films and series this year, according to executive chairman Martin Moszkowicz.
They include Berlinale gala screening Sun And Concrete (Sonne Und Beton), directed by David Wnendt, which Constantin co-producers and distributes, and Paul W.S. In The Lost Lands is Anderson's fantasy adventure. Milla Jovovich stars and Dave Bautista is also in the mix. Hagen, a big budget feature and six-part series based on the epic German Nibelungen saga, has also started shooting, and Constantin is set to make a series adaptation of hit book and movie Smilla's Sense Of Snow.Moszkowicz, who was recruited by Constantin's late managing director Bernd Eichinger in 1990, has headed the Munich-based company since 2014. A producer by background, Moszkowicz previously helped to build up Constantin's Los Angeles office and has producer, executive producer and co-producer credits including
Downfall, NowhereIn Africa , the ResidentEvil and Fack Ju Goehte franchises, Perfume: The Story Of A Murderer and The Baader Meinhof Complex. He also heads the production department at the Munich Film School. How much of a focus is film versus TV/streaming for Constantin?
Obviously, in the last 15 years our focus has moved from theatrical into streaming and television. This trend will continue, but we don't intend to change our DNA. We are a theatrical production and distribution company.
We produce 10 to 15 theatrical movies per year. Our distribution division distributes theatrical releases in Germany, Austria, and Switzerland. Our production division also produces around 2,000 hours worth of streaming and television productions each year.
We film our movies anywhere in the world. Two major shows were just completed in Krakow, Poland. We are shooting in Prague, Canada, Ireland, Croatia, South Africa…We're virtually a worldwide operation in terms of production.Why the strong focus on film, given the challenges facing the industry?We strongly believe in a theatrical future for movies. The market is constantly changing but there is still a demand for theater movies and in-theatre experiences. We will continue to make theatrical movies in the future. It's a growing part of our operation. However, streaming TV is becoming a major part of our operation. It's growing rapidly.
And what about your focus on production versus distribution?
Most of our distribution slate – about a dozen to 15 movies every year – is produced or co-produced in house. This is a big difference to our German competitors who mainly acquire movies on the international marketplace. We do acquire, but are in a comfortable position to not have to. Acquisitions are a business that is driven by opportunities. We will happily buy a movie if we find it at the right price. Constantin is very producer-centric. Bernd Eichinger
10 was the founder of Constantin Film. I'm a producer. Oliver Berben is the deputy chairman of the company and is responsible for our digital and television businesses. Constantin Film has over 50 producers who are either in-house or have household or first-look deals.
How do you see the next few years for Constantin?
We have initiated the most ambitious production slate that we have ever had in terms of big, big movies. We strongly believe that our business is becoming more event-driven and franchise-driven. Recognisable IP and trademarks are more and more important.
So, a big part of our slate is franchise titles. Franchises have been around for many years. We've made video-game adaptations like [who died in 2011]Resident Evil
or
Monster Hunter
. We just wrapped in Krakow for Paul W.S. Anderson's fantasy adventure In The Lost Lands10, which is based on George R.R. Martin, starring Milla Jovovich and Dave Bautista.Source: Copyright: Constantin Film / Mathias BothorHagen cast: Jannis Niewohner (Siegfried), Lilja van der Zwaag (Kriemhild), Gijs Naber (Hagen von Tronje) and Dominic Marcus Singer (Gunter)We are also making a high-budget feature film and six-part series, Hagen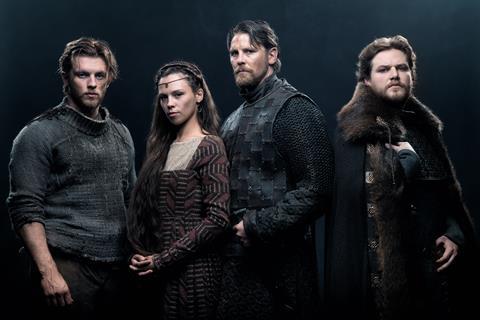 We're doing another big television show this year – Smilla's Sense Of Snow – based on the Bille August-directed feature film that we made nearly 30 years ago.
We have a legacy sequel coming out in March to a German movie from the early '90s with Til Schweiger called Manta, Manta, which has since become the most successful German movie ever on television.
What about growing the company? Do you prefer organic growth or acquisitions? We use the same approach for growth as we do for acquisitions. It's all about taking advantage of every opportunity. We don't need to reach any immediate growth targets; we only need to be financially profitable. This is our mandate from our shareholders. We are very product-driven. We are very product-driven. It's not our thing to buy companies. We do have many subsidiaries, especially in Germany. We believe that smaller production companies are better at developing and producing feature films, as well as series. We have expanded in a few areas. We are partners in Matt Brodlie's Los Angeles-based Upgrade Productions. This is a production company that develops and produces local-language series and films for international audiences.We also teamed up with Herbert Kloiber, one of our former competitors, in High End Productions to create premium European scripted series. The
Those About To die
is Roland Emmerich's first major television series. It is a 10-parter set within ancient Rome. We are distributing all of Europe, so not only to Germany.
Source: Copyright – Constantin Film
Sun and Concrete
How would you characterise the German market at the moment? In Europe, there has been a massive production boom over the past few years, mainly due to streamers. I think that is changing a little bit, they're slowing down substantially.The German theatrical market is not as developed as it is in countries like France. The per capita cinema-going rate in Germany is much lower than the rest of Europe. There are lots of reasons for that: many other entertainment offerings are available to audiences, with a very vivid free television landscape being one of them obviously.
I do. It's just a natural thing. But I don't think Germany will be as consolidated as the entertainment markets in the UK or America, where a couple of big studios or production companies control pretty most of the market.
Germany, I would say, is a mid-sized company driven market. There are many independent producers in Germany, some of which are very successful. Despite its flaws, the subsidy system is very effective and pumps around EUR600m annually into the industry.
We also face major issues in terms of lack of crew and rising production cost, as with everything else. I am confident that we will get back on track in the next few years. Over the past 100 years, our industry has seen constant change. I think it's the sign of a very sound industry if it can adapt as much as we have done.
Fremantle's global drama CEO Christian Vesper outlines "nascent" film strategy