Appearances by Rihanna, John Krasinski and Ziggy Marley were among the highlights of a lively Paramount CinemaCon session on Thursday.
Paramount Animation and Nickelodeon Animation president Ramsey Naito announced Rihanna as the voice of Smurfette in Untitled Smurfs Animated Film.
The music superstar and entrepreneur came on stage and told exhibitors she hoped voicing the character would make her look good in her children's eyes. The Paramount and Nickelodeon film will open on February 14, 2025. Chris Miller directs.
President of domestic distribution Chris Aronson brought Krasinski on stage at the Colosseum in Caesar's Palace to unveil a first look of A Quiet Place: Day One with a teaser trailer. Michael Sarnoski will direct the horror sequel which opens on March 8, 2024. Lupita Nyong'o, Joseph Quinn, Alex Wolff, Djimon Hounsou, and Denis O'Hare star.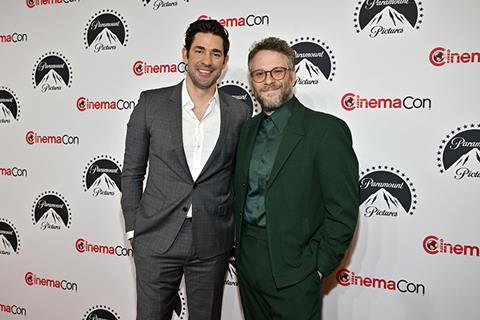 Krasinski also shared an exclusive look at his original family comedy drama IF in a behind-the-scenes piece. The film will star Ryan Reynolds, Krasinski, Matt Damon, Jon Stewart, Emily Blunt, Maya Rudolph, Sam Rockwell, Sebastian Maniscalco, Christopher Meloni, Richard Jenkins, Awkwafina, and Vince Vaughn.
The session also saw Martin Scorsese show first footage from Killers Of The Flower Moon, and a 20-minute sequence from Mission: Impossible – Dead Reckoning Part One.
Transformers: Rise Of The Beasts director Steven Caple Jr. brought on stars Anthony Ramos and Dominique to show a new trailer that features a brand-new faction: Transformers, the Maximals. The tentpole from Paramount Skydance and Hasbro will open on June 9.
Naito revealed the title Transformers one based on the animated Optimus Prime & Megatron origins stories, and revealed the key voice cast for the July 19, 2024 release Josh Cooley directs the Paramount Animation and Hasbro tentpole.
Seth Rogen came on stage to tee up footage from Teenage Mutant Ninja Turtles: Mutant Mayhem which opens on August 4.
Naito also announced the title The SpongeBob Movie: Search For SquarePants from director Derek Drymon and showed previously unseen concept art for the May 23 2025 release. It was also the first time that concept art for Paramount's and Nickelodeon Movies The last Airbender (Working title) was shown. This film, originally Untitled Animation Aang Avatar, directed Lauren Montgomery, will be released It opens on October 10, 2025.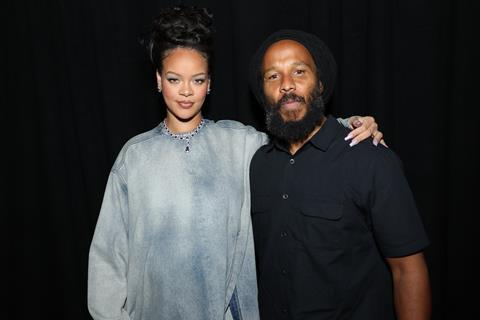 Ziggy Marley appeared on stage to cue up a trailer for the biopic about his father Bob Marley: One Love, opening on January 12 2024. Reinaldo Markus Green directs Kingsley Ben-Adir. Lashana Lynch and James Norton.
"We need theatrical for streaming to work," said Paramount & Nickelodeon Films' CEO Brian Robbins. He reminded the crowd that Paramount had its best box-office year in Robbins added that Ridley Scott will start production soon on the Gladiator sequel starring Paul Mescal, and also name-checked upcoming productions Dear Santa, a Smile sequel, and a third Sonic The Hedgehog film.Aronson, who true to form appeared on stage in costume – this time as a ninja turtle carrying a pizza box surrounded by breakdancers – reiterated the box office successes of early 2023 release
80 For Brady and Scream VI, and also mentioned Dungeons & Dragons: Honor Among Thieves.The executive urged the industry to think long-term. "We should be experimenting with variable pricing, creating opportunities for the consumers like we did on
80 For Brady." Tickets for the senior-skewing comedy starring Jane Fonda and Lily Tomlin were available for $8 at participating cinemas.Recalling the infamous line from Paramount's
The Godfather, Aronson said, "Why not make consumers offers they can't refuse?"Sony Pictures Classics picks up Pedro Almodovar's 'Strange Way Of Life' with Ethan Hawke and Pedro Pascal