Japanese actor Ryohei Suzuki has praised the "inspiring" members of SAG-AFTRA who are on strike to secure a fairer split of profits from streaming giants and better working conditions.
Accepting Screen International's Rising Star Asia Award at the New York Asian Film Festival (NYAFF), the star of Egoist and upcoming Netflix feature City Hunter said: "It is such an inspiring time for us Asian actors when American actors are fighting so hard for their rights right now so I want to show my respect and my support to all the SAG-AFTRA members and what they are fighting for."
Suzuki is known for roles in a string of Japanese TV series such as Segodon, Ship of Theseus and Tokyo MER: Mobile Emergency Room, winning best actor at Busan's Asia Contents Awards last year for the latter.
He has also been gaining increased attention for his big screen roles in films such as Last Of The Wolves, for which he won best supporting actor at last year's Japanese Academy Awards, and more recently Daishi Matsunaga's LGBTQ+ romance drama Egoist, which played in competition at Tokyo International Film Festival and has sold to a raft of distributors including Strand Releasing for the US. The film screened on Saturday (July 15) as part of NYAFF's line-up.
Speaking to Screen, Suzuki said his commitment to improving representation in Japan spurred him on to accept the role of a gay man in Egoist.
"Representation really matters so I thought about if I should play this role or if it should be taken on by a person who is gay," he said. "Representation really matters so I thought about whether or not to play this role. If it was a gay actor, that would be great." he said. In this industry, actors are still not allowed to be open about their sexuality. I knew if I was going to take this role I had to be 100% dedicated, respectful and responsible, so I began by learning about the LGBTQ Community and the challenges they face on a daily basis. "Before
Egoist, most of my roles tended to be physically strong characters because I have a big physique," he said. "But Kosuke has a strong mind and the courage to leave his small village for Tokyo and make his own way. I think that people began to view me differently because he has a vulnerable side. This muscular actor can be also subtle and sensitive."It is a world away from Suzuki's breakthrough film role in comedy
Hentai Kamen, in which he played a superhero whose powers are activated by wearing women's underwear on his face. The film won the audience prize at NYAFF 2013 and was followed by Hentai Camen: Abnormal Criss in 2016 "That was a silly film and a low-budget film, but people appreciated my dedication to that role," said Suzuki. "It wasn't a perfect movie, but it had a certain amount of energy that appealed audiences. It changed my career."
City HunterSource: Netflix'City Hunter'
Suzuki will next be seen in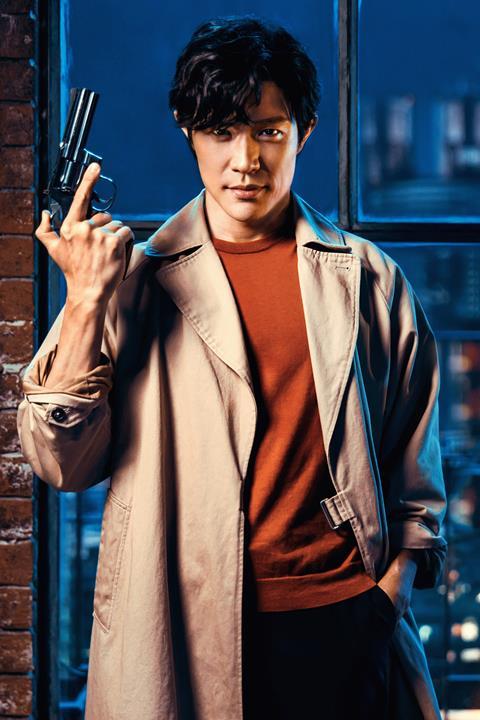 City HunterSource: Netflix'City Hunter'
Suzuki will next be seen in City Hunter, Netflix's highly anticipated live-action adaptation of a classic Japanese manga, in the iconic role of Ryo Saeba.Set for release in 2024, it will mark a full-circle moment for Suzuki, whose love of the City Hunter
animated series of the late 1980s first sparked his interest in performing. "When I turned 10, I wanted to be a voice actor, because my favorite anime was City Hunter, and my dream was that I would be a member of it," he recalled. "As I got older, I wanted a career in film and to be able to act in movies.
I had so many memorable moments on the set, not only playing Ryo Saeba, but also being in the world and experiencing the story. It's amazing. It's unbelievable. I remember filming a scene on Christmas Day, which was a very important manga scene and one I have read so many times. It made me cry. I can't say I enjoyed it because the responsibility that comes with it is huge. This film has to satisfy the younger version of myself. That was a huge responsibility."
Based on the original manga of the same name by Tsukasa Hojo and directed by Yuichi Sato (Kisaragi), Suzuki added: "I cannot say more about it but it's going to be closer to the original manga than the animation. We're trying make it more authentic to the manga. It's going to be very enjoyable." But it's going to be very enjoyable."
Netflix is producing the film in partnership with Tokyo-based production companies Horipro and Office Shirous.
Looking ahead, the actor said: "I've always wanted to work with people from outside of Japan so if there's a need for me, I'm open to offers. The presence of Asian filmmakers is really growing in America, such as Hikari [who directed three episodes of Netflix series Beef] so perhaps there are new opportunities.
"I was recently in Los Angeles and met with some people but was mainly taking English classes and acting classes. I work with an acting coach in Japan for every job I do. I'm always learning. I always keep learning."
NYAFF runs from July 14-30 at New York's Film at Lincoln Center.
How New York Asian Film Festival is broadening horizons and showcasing Asia's stars