XYZ Films has added the psychothriller Krypto to the sales slate of its New Visions label launching in Cannes to champion bold cinematic voices and has released the first two first-looks.
Paris-based Canadian photographer Kourtney Roy makes her feature film debut on the Canadian-UK co-production about a woman's search for a missing monster hunter and her growing realisation that she is inescapably linked to the creature being pursued. Chloe Pirrie stars and Paul Bromley wrote the screenplay.
Amber Ripley of Goodbye Productions produced Krypto alongside Sophie Venner of the UK's Taletime Pictures and Josh Huculiak, with the support of Telefilm Canada.
Roy won the Prix Picto for photography in 2007 and was honoured with Pernod Ricard's Carte Blanche in 2018. She has also worked extensively as a visual artist and in video advertising.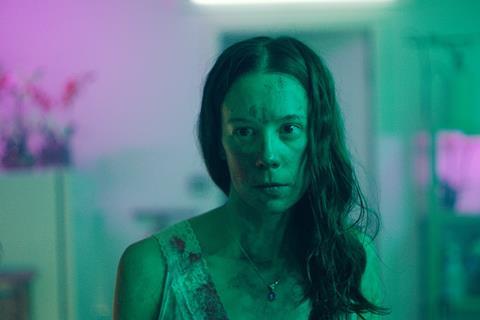 Manon Barat, who was recently hired to oversee the New Visions slate alongside XYZ films' head of international acquisitions Todd Brown, said: "Already a globally renowned photographer, Kourtney Roy's debut feature film proves her skill also as a director – confirming her as a consummate artist. Her photographs have been exhibited around the world and Krypto is sure to follow the same path.
"Watching the film feels like being at one of Roy's exhibitions with every frame a photograph, expertly constructed and superbly lit. Kourtney Roy may just be a worthy heir to David Lynch." Kourtney Roy may just be a worthy heir to David Lynch."
XYZ Films launched New Visions in spring to spotlight the boldest new voices alongside established talent striking a new path in the international space.
The films announced on the roster so far are: Zarrar Kahn's Pakistani-Canadian Directors' Fortnight entry In Flames, Nissar Modi's package Reckoner starring Christina Hendricks; Barnaby Clay's Tribeca Festival selection The Seeding; Robert Hloz's Czech sci-fi Restore Point which screens in the Cannes market as part of the Fantastic 7 line-up, and Paul Duane's upcoming Irish folk horror All You Need Is Death.
15 films to look out for at the 2023 Cannes Film Festival